There is no doubt that many of you have been watching the news lately regarding the spread of COVID-19, which has now reached the UK. As the World Health Organisation urges people to wash their hands and self isolate if they present with symptoms, it raises questions of how to keep our friends and family safe in the workplace and at home and halt the spread of this disease. However, even though this pandemic has given rise to people's daily hygiene habits none of the information regarding hygiene is new. Throughout the last century, the importance of disinfecting and sanitation has altered the quality of our everyday lives, helping people to live better, longer and safer. Industries all over the world adopt these practices on a regular basis from food factories to medical facilities to Agriculture. That is why TYGRIS Industrial takes cleaning and sanitation seriously, helping the community stay safe and contamination-free.
Why Disinfecting Is Important?
If you were to look back at some of the worlds biggest pandemics you would see a vast contrast in infection rates and death tolls compared to today. This is mostly because of the hygiene methods and products that are available today to help disinfect surfaces and provide clean areas for people to eat, drink and spend their time were, unfortunately, not available back then. Which in turn increased contamination and infection.
Washing and disinfecting both simultaneously has a greater chance of stopping the spread of germs and inhibits contamination. Whether that be to stop the spread of a certain virus, food-borne pathogens or other bacterias. The use of proper hygiene and cleaning methods is essential in both professional and personal areas at all times and not just during a pandemic.
According to the CDC, it is essential to not just properly clean areas, but to also disinfect after use; They have said,
Cleaning refers to the removal of germs, dirt, and impurities from surfaces. Cleaning does not kill germs, but by removing them, it lowers their numbers and the risk of spreading infection. Disinfecting refers to using chemicals to kill germs on surfaces. This process does not necessarily clean dirty surfaces or remove germs, but by killing germs on a surface after cleaning, it can further lower the risk of spreading infection.
Disinfecting has and always will be important in our daily lives and if anything, the COVID-19 outbreak has reminded us, that personal hygiene, cleanliness and the disinfecting of surfaces are practices that should be adopted into our daily routines.
TYGRIS OneWipe AntiBac Wipes: The Way Forward!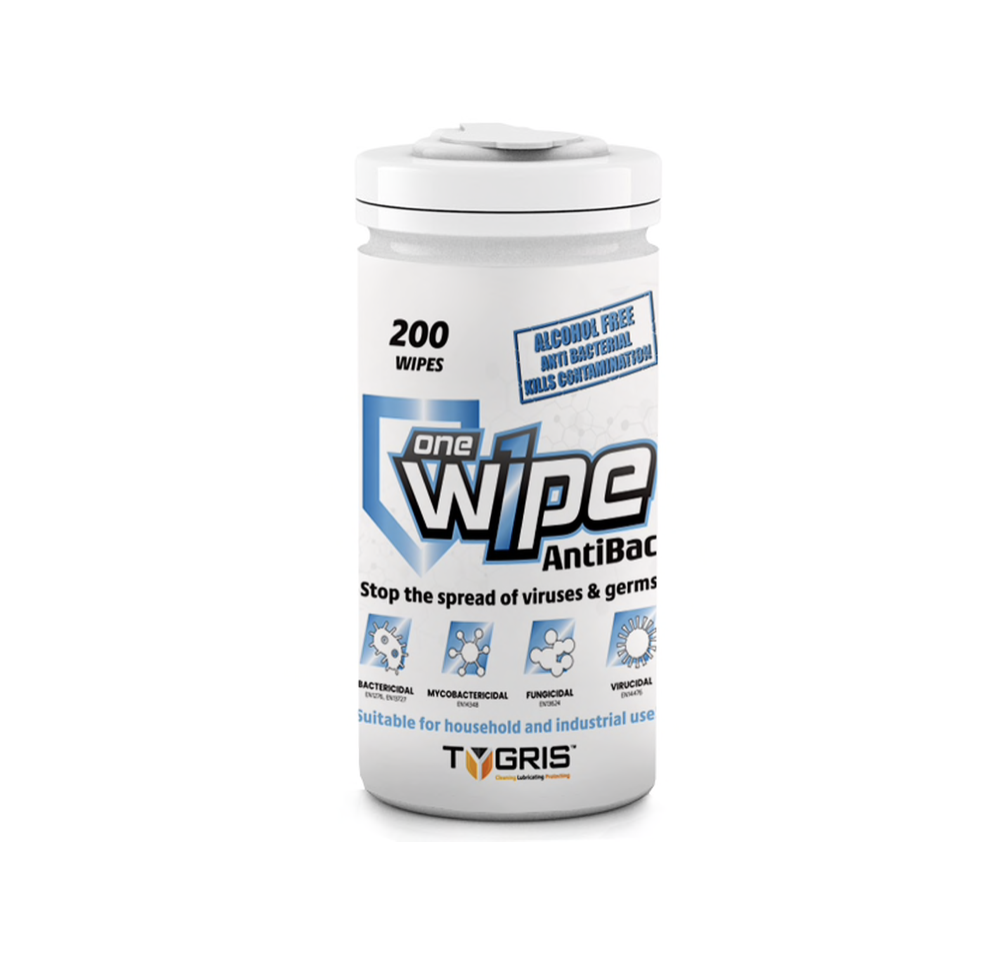 With hygiene being a priority for everyone at the moment. Our Antibacterial Wipes are an ideal product to have in your home or workplace. TYGRIS OneWipe™ AntiBac has been designed for household and industrial use with the goal of keeping everything convenient and contamination-free. Often the use of sponges and cloths to wipe down surfaces is counterproductive as the sponges become contaminated and often spread the pathogens across different surfaces. Our single-use disposable wipes help to eliminate any risk and require no complex preparation or dilution of disinfectants. They are Alcohol and Chlorine-free and are ready to use straight from the tub for your convenience.
With a natural odour and completely fragrance-free, the OneWipe AntiBac is ideal for cleaning and disinfecting all surfaces including kitchens, work stations, bathrooms and tools. Each tub contains 200 wipes which can be used to against the following pathogens:
Bactericidal – Pseudomonas Aeruginosa, Staphylococcus Aureus, Enterococcus Hirae, E Coli & MRSA. EN1276, EN13727
Mycobactericidal – Myco. Terrae. EN14348
Fungicidal – Candida Albicans and Aspergillus Niger. EN13624
Virucidal – Hepatitis C, Influenza A (H1N1), Human Immunodeficiency Virus (HIV) and Norovirus. EN14476
Consult the safety data sheet prior to use.
You can order our OneWipe Antibac Wipes directly from our website or by clicking here.
Here at TYGRIS Industrial, we wish all of our customers the best during the few tough weeks of and here to help keep your place of work and home clean. If you have any question regarding our products please contact us.