PROTEAN In Action - Our Visit To The Mackays Jam Factory
Food safety has become increasingly important in the last decade. New dietary findings and health benefits are emerging almost every day and the general population are becoming much more aware and concerned with what they are digesting - not just in terms of the chemicals and toxins consumed through products, pesticides and pollution but also the food borne pathogens and then there is the ever increasing intolerances to nuts, gluten, dairy and other ingredients which can put customers at fatal risk.
Now more than ever, food companies and factories need to take extra care in their food preparation processes, which includes controlling what lubricants and cleaners are used in and around their premises. That is why Mackays take their lubrication requirements very seriously and have put their trust in our TYGRIS PROTEAN Food range.
BEHIND THE SCENE WITH MACKAYS JAMS
With their range of jams, marmalades and curds available in over 80 countries worldwide. It is important to Mackays that they deliver the highest possible service to their customers. Keeping their health and safety at the top of their priorities. This includes not only regulating their production and food preparation, but also making sure that the products they use are compliant and high standard.
That is why Mackays have put their trust in TYGRIS Industrial by relying our PROTEAN Food Area Range to keep their machinery in top form. Using our PROTEAN Chain Spray Aerosol and our PROTEAN Maintenance Grease on their production line and machinery. They are confident that their machines are getting the best quality products while staying food and health safe.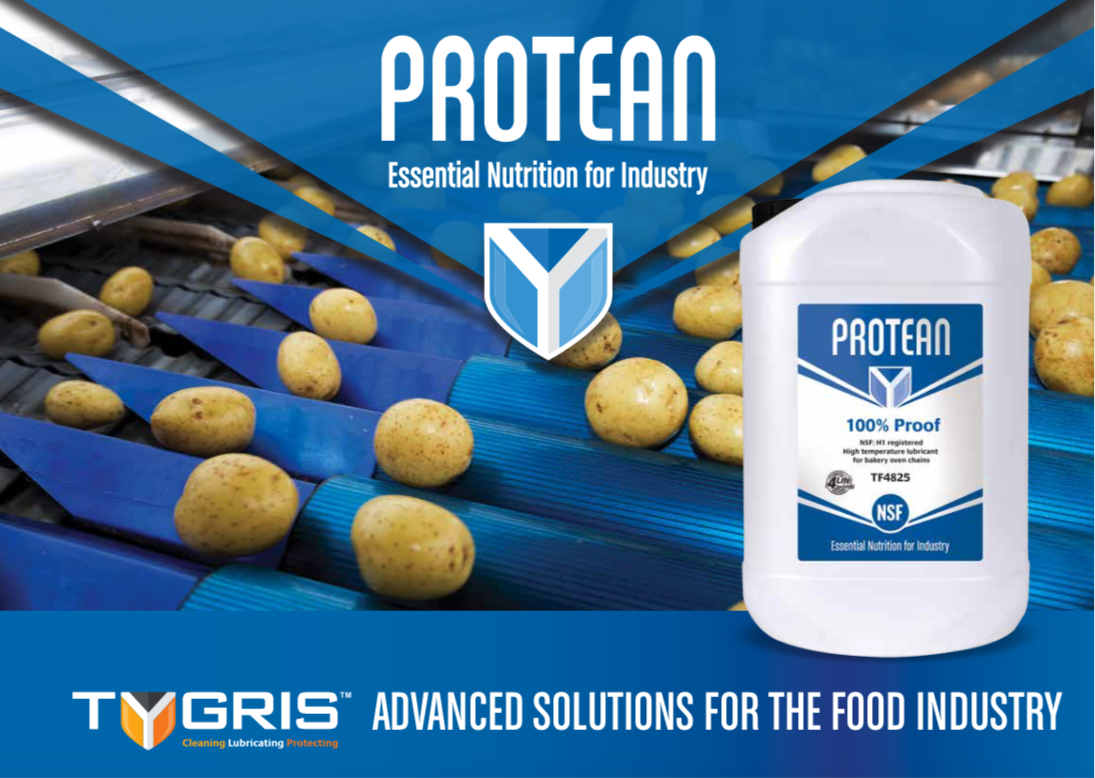 Be it a lubricant for high or low temperatures, for use with fast- or slow-moving machinery or simply a cleaner for use in and around food processing environments, Our PROTEAN Food Area range covers everything that is needed to clean, lubricate or protect all your food machines and components. PROTEAN, meaning versatile, flexible and adaptable, epitomises its name in all of its products. All products are NSF/InS registered, with many products also Halal and Kosher certified, making it ideal for all food industries.
We spent time researching and developing a superior range of advanced solutions making our PROTEAN range stand out from the crowd of seemingly similar products.
COMPLIANCE LIKE NO OTHER
At TYGRIS we take the hard work out of audit compliance by providing all of our customers with a customised compliance file with all the necessary information on all the TYGRIS products you use. Audits play a key role in making sure that companies are compliant and not risking the health of their customers. Our Customer compliance folder is one of them main reasons why MACKAYS love using our TYGRIS products as it gives them the peace and mind and extra time to focus on other things.
If you would like to find out more about our PROTEAN range or compliance folders, then check out our website for product information or get in contact to discuss. You can also sign up to our newsletter to be informed about our latest news, promos and offers.