One of the most important things we consider at TYGRIS when we develop a new product is how we can solve issues that people in industry face every day. We take a look at what's causing issues for businesses in a range of industries, or what's just being a bit annoying, and use our expertise to come up with an answer. Solving problems is just what we do, and our OneWipe selection has solutions for any messes you might be struggling with.
OneWipe is a fairly self-explanatory brand, as it does exactly what they say on the tub! These wipes are specially formulated to quickly and easily clear a huge number of different substances. We have everything from anti-bacterial hand wipes,surface wipes and of course our tough OneWipe hand wipes.
These wipes have been carefully developed for use by professionals in all kinds of different trades. These industrial wipes are a must-have and make for an essential bit of kit to keep close by while working. So, what makes these wipes so special? In this blog, we're taking an in-depth look at the wipes changing the game of industrial cleaning, and why you should be using OneWipe!
Sick Of Wasting Money On Dry Wipes? OneWipe Makes It A Thing Of The Past
As we said, we make sure to develop our products with solving problems in mind. One of the biggest issues we found with the wipes currently on the market was that they dried up far too quickly. This means getting a wipe that just doesn't do the job properly and struggling to clean up messes that you should be able to clear up quickly.
"OneWipe offers large wipes that retain moisture, so that one wipe really is all it takes."
OneWipe takes care of this gripe, with a highly absorbent material that keeps hold of moisture for a longer-lasting product that can clean much more effectively. Each package is foil sealed to make sure that they stay in perfect condition for effective cleaning. Even better, we noticed that another big problem industry professionals had with wipes was that they were too small. OneWipe offers large wipes that retain moisture, so that one wipe really is all it takes.
This means you get the most bang for your buck, and instead of going through several small and dry wipes just to get the job done, you can take care of messes and look after your money at the same time.
Cleaning Up Stubborn Messes Is A Breeze With The Heavy Duty OneWipe
When we say that these wipes work wonders, we mean it. There's nothing worse than opening up a new pack of wipe and finding that they can't actually tackle the mess they say they can, so we've used a heavy-duty cleaner that can take on a huge number of different substances including:
Adhesive Glue
Dirt And Grime
Grease
Petrol
Oil
Ink
Bitumen
Epoxies
Expanding Foam
Jointing Compound
Mastic
Paint
Polyurethane
Polyester Fillers
Sealants
Silicones
And many many more wet and semi-cured substances. We think that wipes should be able to take on anything, especially when working on-site where you might not have access to a sink. While they can take on the strong stuff, these industrial wipes are still safe for use on hands which makes them perfect for daily use. Just as they stay moist, the powerful cleaning agent in these wipes makes them ideal for cleaning with minimum wastage so cleaning on the go is a walk in the park.
Get The Best Wipes On The Market: No Matter What Industry You're In
OneWipe is developed to be versatile, and with the ability to clean so many substances and surfaces they're a must-have for many industries. These wipes are used by globally recognisable businesses like Boeing in their manufacturing, so they can work for any business. These wipes are ideal for cleaning not only hands but tools and surfaces as well!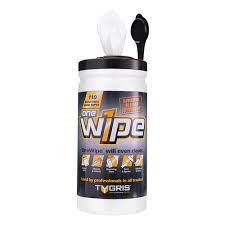 We stock our industrial wipes in handy boxes of 12, and the compact size of the cases makes them perfect for keeping close by even in busy workspaces. They really are the full package and can be applied to sectors from aeroplane manufacturing businesses like Boeing to agricultural and marine industries.
How To Use Our Brilliant OneWipe Range In Your Business
To introduce our OneWipe range to your daily routine, browse our full selection of antibacterial wipes, industrial wipes and more here! If you have any questions on how our TEAM101 can help you make the most of our products get in touch with us for expert advice.