TYGRIS Glass Cleaner In Action
When it comes to our range of products, we always strive to deliver flawless results you can count on. With such a wide range of industrial solutions available, our client base varies massively. Our selection of innovative products has something for every use, whether it's lubricating, protecting or cleaning.
Our cleaning products are specially formulated to deal with the toughest of messes and have been developed with professional environments in mind. Our cleaning sprays are used in many different businesses and with fantastic results.
One of the things that make TYGRIS different is our unwavering commitment to our clients, and how closely we keep tabs on our customers. We were approached by the wonderful team at Vision In Steel, who rely on the TYGRIS Glass and Mirror Cleaner to make their products shine.
In this blog, we'll delve into Vision In Steel, who they are as a company and how our products help their creations stand out.
---
Who Are Vision In Steel?
Based in Lancashire, Vision In Steel specialise in the creation of bespoke internal and external doors. These custom creations are crafted with great care from their very own workshop and are built to complement their client's home.
With 10 years of experience under their belts, the team at Vision In Steel are dedicated to delivering unparalleled precision and irresistible quality with every door they design. From new builds to revitalised refurbs, they offer a tailored service with the customer's needs in mind.
We also know a thing or two about putting the customer first, and our solutions reflect this passion for perfect products. In this blog, we're putting the spotlight on our Glass and Mirror Cleaner, which is a must-have for Vision In Steel.
---
TYGRIS Glass And Mirror Cleaner
Our cleaning products are designed to deal with the toughest of messes and are a firm favourite of professionals that require strong cleaning solutions. Our glass and mirror cleaning spray is a specially formulated aqueous alcohol-based cleaner, which effortlessly cuts through any mess.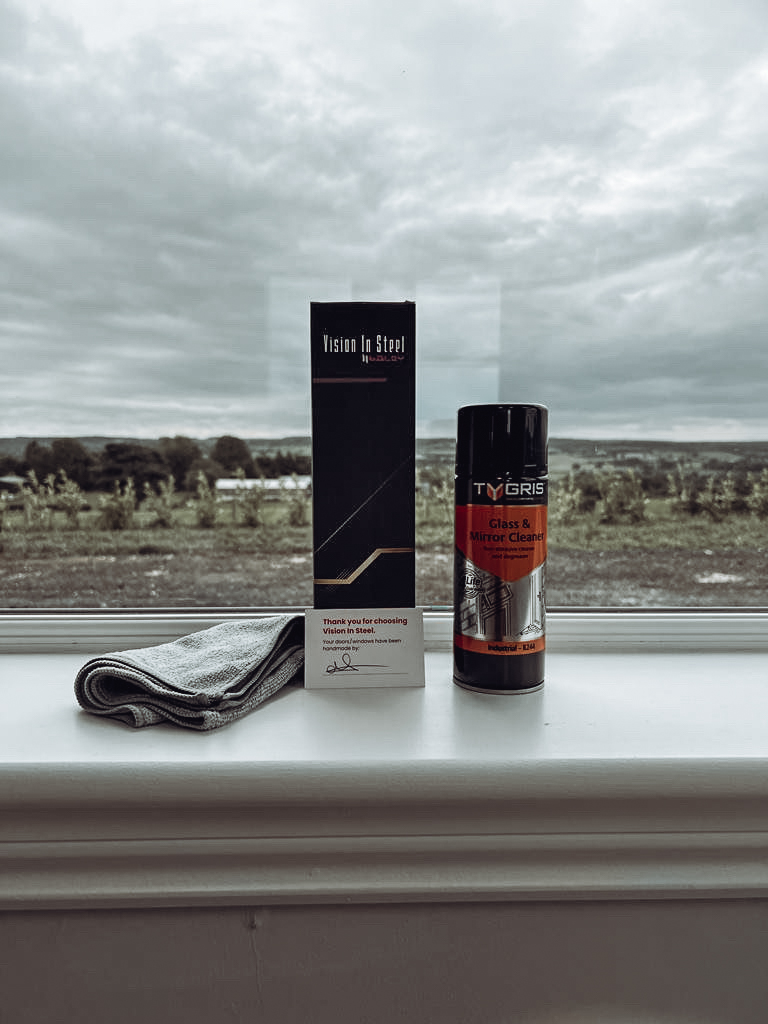 Whether it's unsightly fingerprints, make-up or even nicotine stains, this spray cleans everything without leaving any streaks behind. This product leaves a flawless finished surface and is ideal for display cases and mirrors.
Virtually residue-free, this spray is a highly effective cleaner and degreaser that offers a high degree of detergency. Even better, it's non-abrasive and completely safe to use on a wide range of surfaces.
---
Why Vision In Steel Loves Our Products
As they often use glass and other reflective materials to craft their stunning custom doors, smudges and fingerprints were a big issue for the team at Vision In Steel. We asked why our cleaner is their favourite option out there, and this is what they had to say:
Once we have fitted our doors, we like to make sure they look 100% before our customers see them. We've used and have been pleased with a number of different Tygris products in the past so tried out their glass cleaner after not being happy with other brands.

The glass cleaner is easy to use and leaves our doors looking perfect. Our customers are always asking what glass cleaner we use, so we have made complimentary packs which include the Tygris glass cleaner.
To find out more about our array of powerful cleaning products, visit our cleaning aerosol section for plenty of options to keep your surfaces spick and span!