At TYGRIS, our goal is to create innovative solutions for machinery and tool lubrication across all industries. For the Food & Beverage sector, we created the PROTEAN range so that you can still make the most of your equipment whilst guaranteeing the use of food-grade products.

Our team of experts spent over a year developing this brand, working with intense focus, extensive research and significant end-user engagement. This brand has been created to give companies in the food and beverage processing industry a complete range of NSF and H1-registered products. No matter the task at hand, PROTEAN has a food-safe industrial solution that can get the job done right.

What Is NSF Certification?
NSF Certification is the key to making sure that the products you use meet the strict standards for public health protection.
NSF International is an independent, non-profit organisation that provides certification services to ensure the safety and quality of consumer products and consumer goods. NSF certification is a mark of distinction that signifies a product has been rigorously tested and meets the standards and requirements set by NSF.
NSF certification demonstrates that a product has undergone thorough scrutiny and meets recognised industry standards for safety, quality and performance. It assures consumers, retailers, and regulatory agencies that the certified product is trustworthy and reliable.
After years of perfecting our PROTEAN formulas for multi-sectoral use, we are proud to say all of our products in the PROTEAN range are food-grade and NSF certified.
Our Top 5 Favourite PROTEAN Products
Silicone Release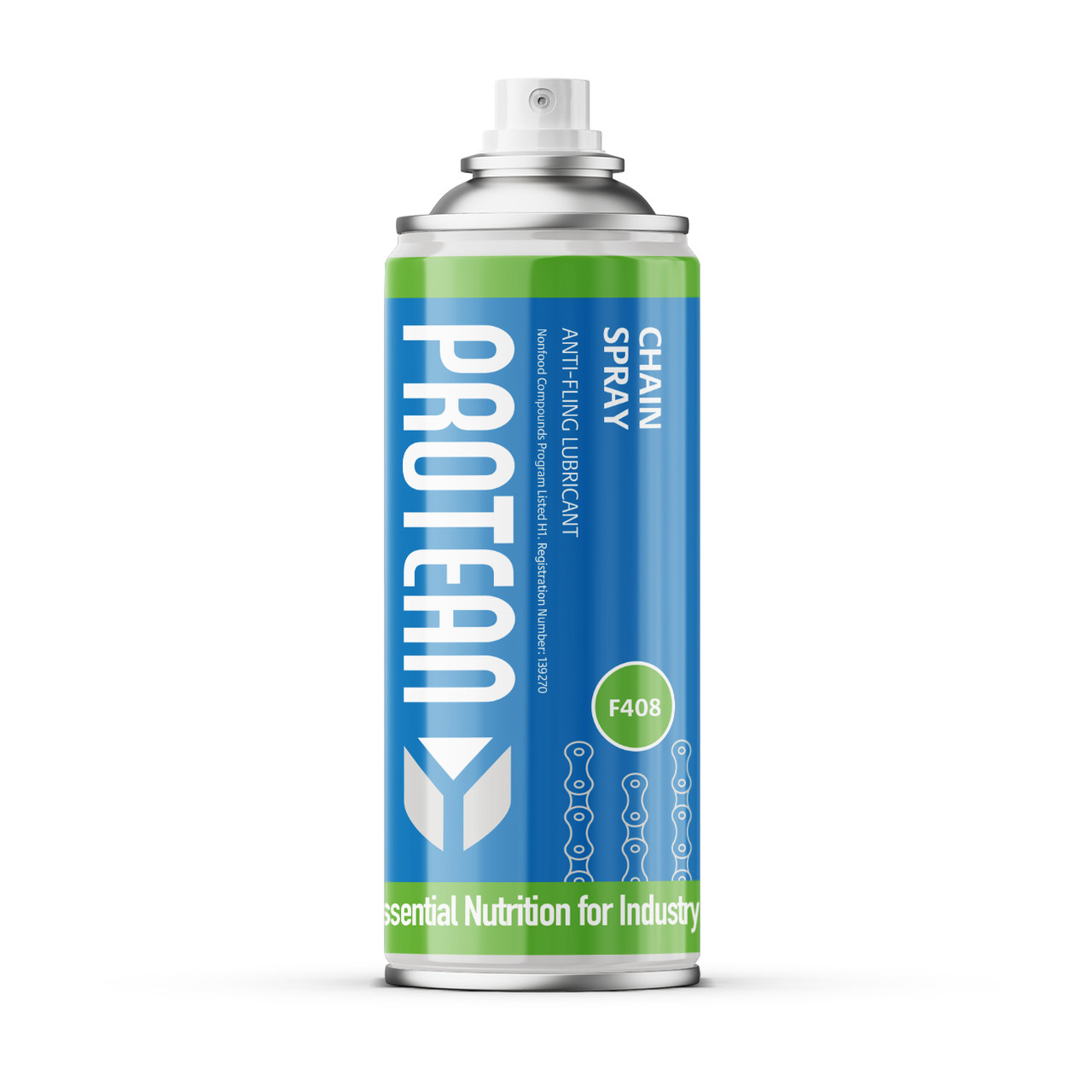 PROTEAN Chain Spray is an NSF: H1 registered food-grade chain spray lubricant designed to keep chain and drive systems operating smoothly. Being both non-toxic and water resistant, PROTEAN Chain Spray is ideal for use on food conveyor systems where frequent washing down is required

What Is Chain Lube Spray?

Chain Lube is used for premium lubrication of all types of chain-driven machinery like bicycles and motorcycles, as well as industrial chains that require a lubricant of good adhesiveness.
How Does It Work?

A penetrating chain lubricant performs multiple functions by not only replacing water, but also removing dirt and wear metals from the chain pins and sprockets. In essence, it provides a comprehensive maintenance solution for the chain, similar to an oil change.
PROTEAN Silicone Release is an NSF: H1 registered food grade lubricant used to protect and lubricate a wide range of equipment commonly found with Food & Beverage Processing, Packaging, Pharmaceutical and other cleanroom environments.

What Is A Silicone Release Agent?

A silicone release agent is a coating that prevents sticking by creating a low-friction film. It's applied to surfaces to help easy release or separation, and commonly used in manufacturing, moulding, and printing to improve production efficiency and prevent adhesion. It works by forming a non-stick barrier that reduces friction and maintains the integrity of finished products.

Do You Need A Release Agent For Silicone Moulds?

While silicone moulds generally don't require a release agent due to their non-stick properties, they can benefit from using one to ensure optimal release and extend the mould lifespan. It's always good to refer to manufacturer instructions when looking to release silicone moulds, as each product may vary.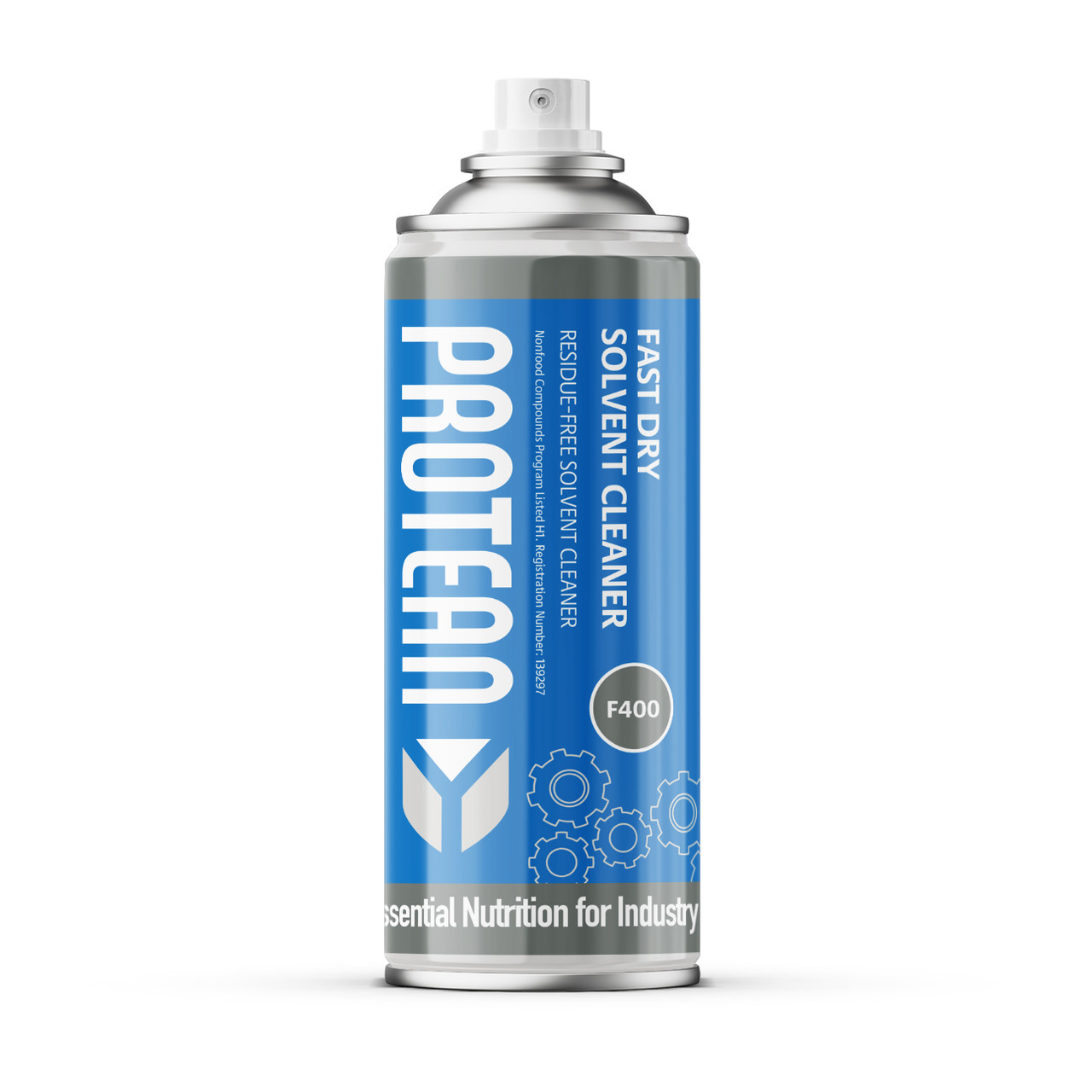 F400 - Fast Dry Solvent Cleaner
PROTEAN Fast Dry Solvent Cleaner is an NSF: K1 registered, fast-drying solvent cleaner. It's powerful enough to dissolve away all types of workshop contaminants, leaving no residue and eliminating the need for rinsing.
How To Use Fast Dry Solvent Cleaner
Store out of direct sunlight and below +50˚C

Consult and refer to the safety data sheet prior to use

Wear appropriate personal protection equipment (PPE)

Shake aerosol well before use

Always test on a small area prior to use

Spray evenly onto the surface from a distance of about 20-30cm

Let it quickly dry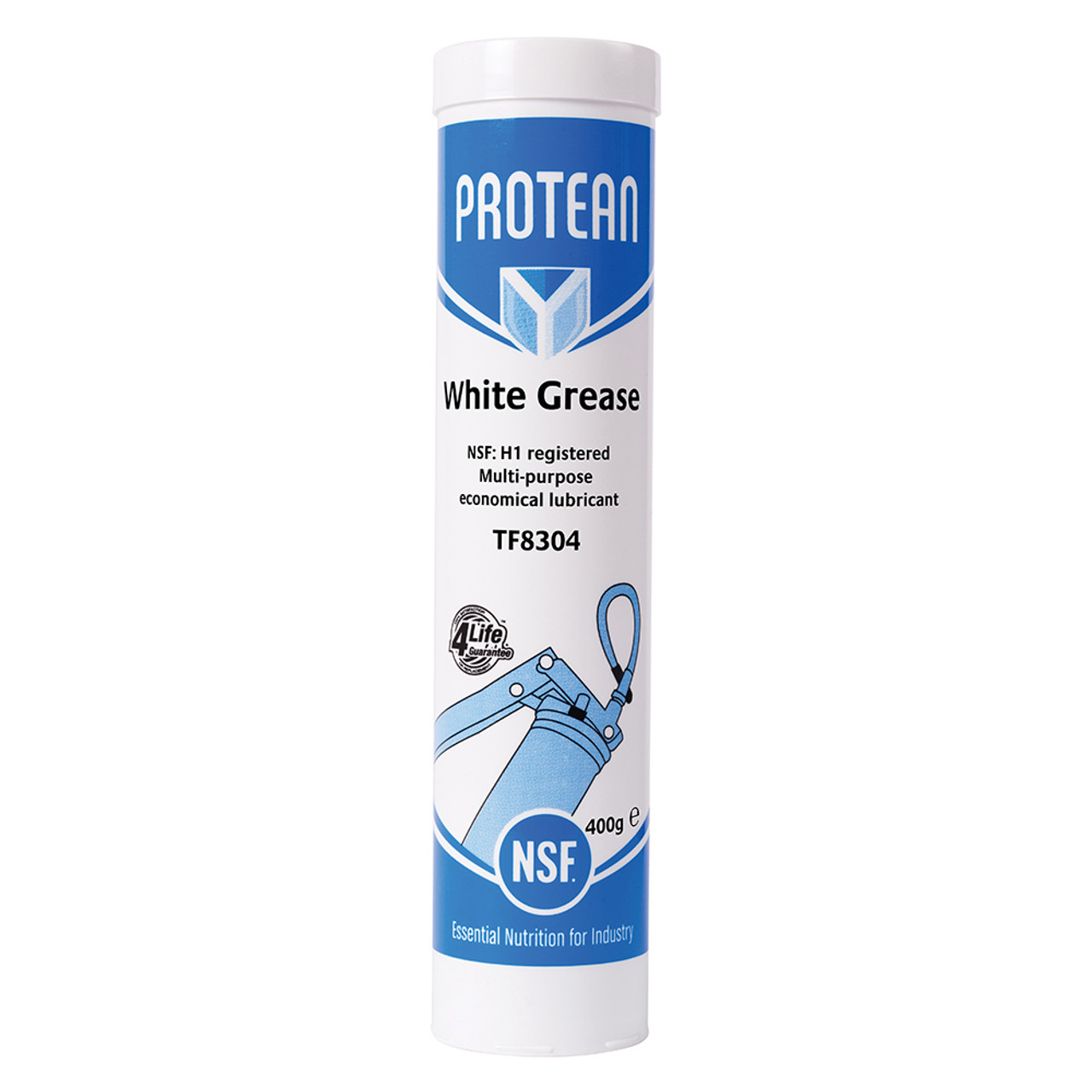 PROTEAN Food Area White Grease is a top-tier grease formulated for food processing environments that may involve contact with food. It has high water resistance and is ideal for use in settings where regular plant wash-downs are necessary.

What Is Food Grade Grease?
Food-grade grease refers to a specific type of grease that is safe for potential contact with food. It's mainly used in the food processing and manufacturing industry, where it's used to lubricate machinery and equipment. Unlike conventional grease, food-grade grease adheres to rigorous safety standards and regulations.

Where Can You Apply Food Grade Grease?

You can apply this grease to a number of different appliances and equipment with a grease gun, such as:

Food Processing Equipment (mixers, grinders, conveyors, slicers, pumps)

Bearings and Bushings

Oven Chains

Bottling and Canning Equipment

Refrigeration Systems

Food Packing Systems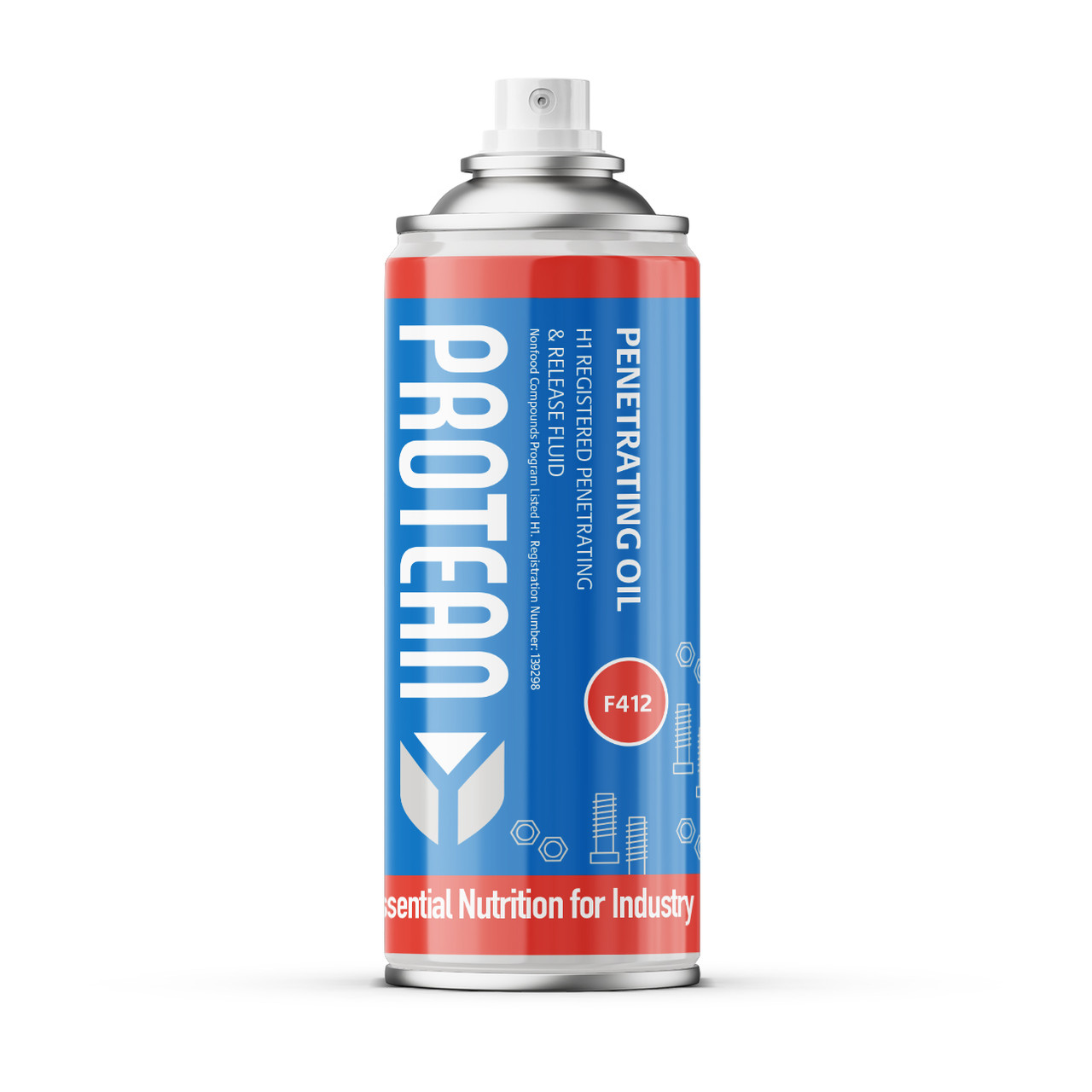 PROTEAN Penetrating Oil is an NSF: H1 Registered lubricant created for the release of seized components. The oil also has the added benefit of having anti-corrosion properties, which actively penetrate the affected parts, leaving behind a residual lubricating film that serves as a protective barrier.
What Is Industrial Penetrating Oil?
Industrial penetrating oil is a specially designed lubricant used to loosen rust and corrosion on surfaces. It contains solvents to dissolve contaminants, corrosion inhibitors for protection, and lubricating additives to reduce friction.
In the food and beverage industry, maintaining optimal machinery performance is essential. To ensure seamless operations, it's crucial to use lubricating industrial products that meet the highest standards.

These top five PROTEAN products not only provide excellent lubrication but also comply with food safety regulations whilst ensuring the durability and efficiency of your equipment.
Explore Our Full PROTEAN Range
Developed to take care of specific problems in the food and beverage processing industries, all of the products in the PROTEAN range are completely food safe. Whether you need to quickly dissolve sugar and fondant or remove pesky sticky label residue, PROTEAN has you covered. To find out more, browse our full range of PROTEAN products here, or get in touch with our team101.
SUBSCRIBE TO OUR NEWSLETTER
Get industry information, deals and promotions straight to your inbox!