41 Reasons Why TYGRIS Anti-Rust Spray is Your Ultimate WD Solution

When it comes to tackling rust, seizing, and corrosion, you want a product that goes above and beyond. This innovative anti-rust agent is your go-to solution for a wide range of industrial, household, garden, and automotive needs. We won't mention any brand names, but trust us when we say that R213 is the superior choice for all your maintenance needs…
Drive Out Moisture Easily With R213

R213 boasts an array of super powerful features that make it a standout performer:
Super Powerful Water Displacement Properties
This silicone-free aerosol is a high-performance water displacement spray that works quickly to drive out moisture from your components. No more struggling with hard-to-reach areas or seized parts! R213 gets the job done fast.
Leaves Behind A Protective Film To Guard Against Corrosion
After driving out moisture, R213 leaves behind a fine protective film that acts as a shield against further corrosion. It's like giving your components a long-lasting suit of armour, reducing the need for costly upkeep.
Rapid Penetrating Action For Seized Components
R213's rapid penetrating action is a game-changer for all industries. It releases seized components quickly, making maintenance tasks a breeze. Plus, it doubles as an effective lubricant that extends component life and eases the dismantling process.
Here are the 41 TERRIFIC uses of TYGRIS R213 Anti-Rust Spray...

Industrial Applications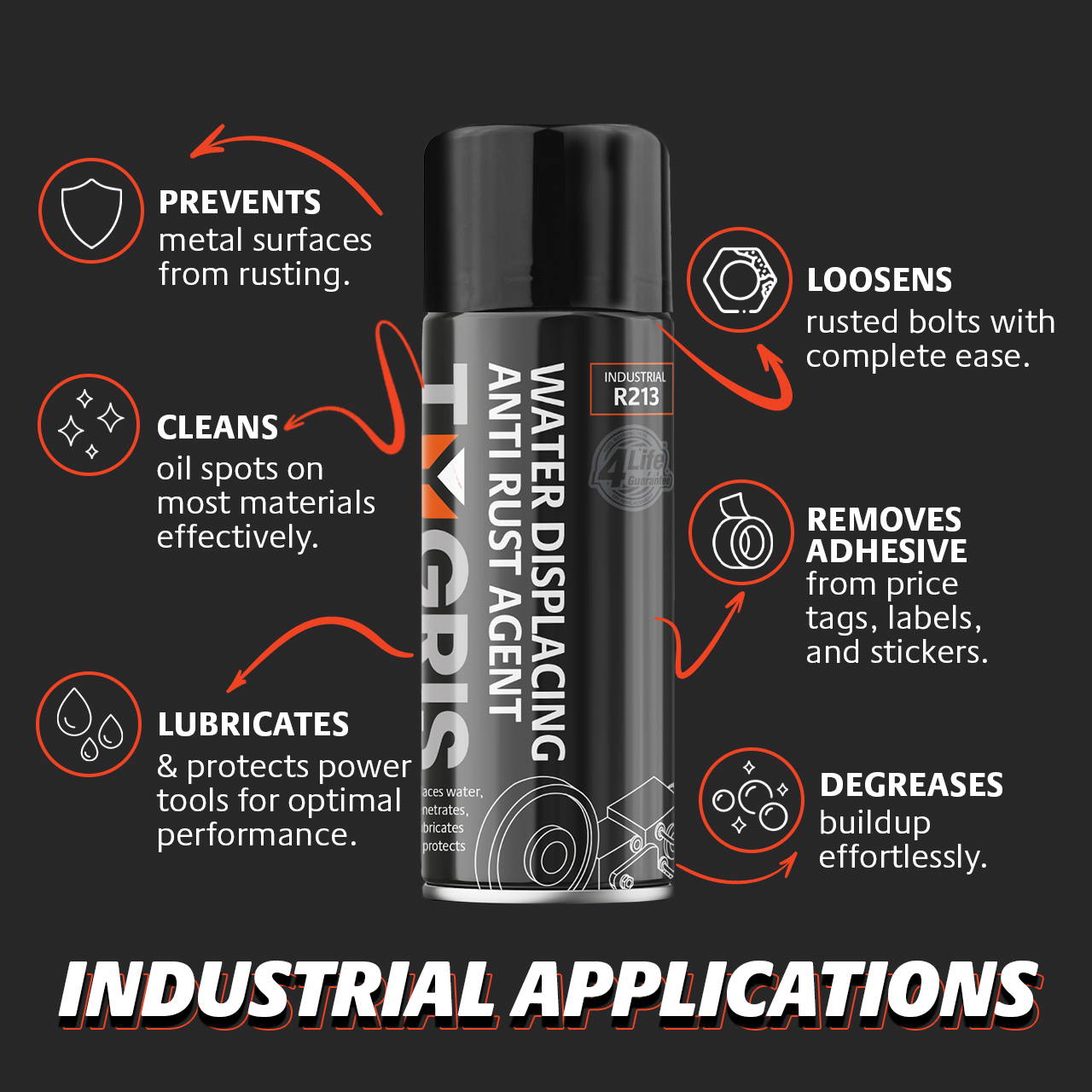 Industrial Applications
Loosens and penetrates rusted or tough plumbing joints.

Loosens rusted bolts with complete ease.

Lubricates and protects power tools for optimal performance.

Removes rust from saws, enhancing their longevity.

Cleans oil spots on most materials effectively.

Provides quick diverter lube solutions.

Removes grease buildup effortlessly.

Helps remove adhesive from price tags, labels, and stickers.

Prevents metal surfaces from rusting, saving you time and money.

Lubricates moving parts such as hinges, wheels, rollers, chains, and gears.

Keeps contact points clean and functional.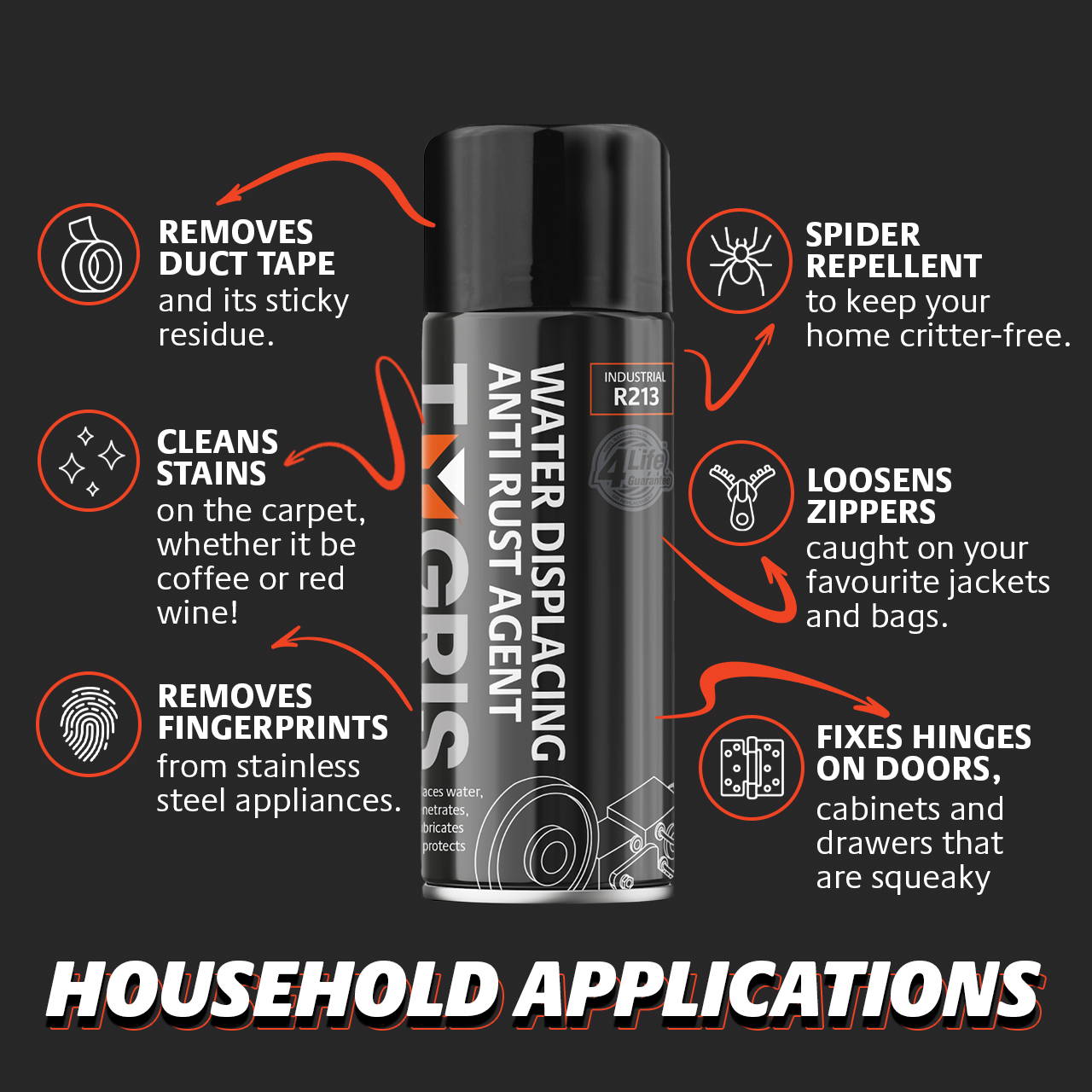 Household Hacks
Removes stubborn glue residue from old panelling.

Helps remove paint from tile flooring without a fuss.

Loosens caught zippers on your favourite jackets and bags.

Cleans carpet stains, whether it be coffee or red wine!

Acts as a natural spider repellent to keep your home critter-free

Fixes squeaky hinges on doors, cabinets and drawers.

Removes floor scuff marks from doors, shoes or furniture.

Shines and removes fingerprints from stainless steel appliances.

Eliminates ink stains from carpet, leather, and other fabrics.

De-grimes and polishes gold and brass items.

Removes wax from vinyl surfaces with ease.

Helps camouflage scratches in linoleum, ceramic tile, and countertops.

Easily removes duct tape and its sticky residue.

Prevents guitar strings from rusting, ensuring the perfect tune every time.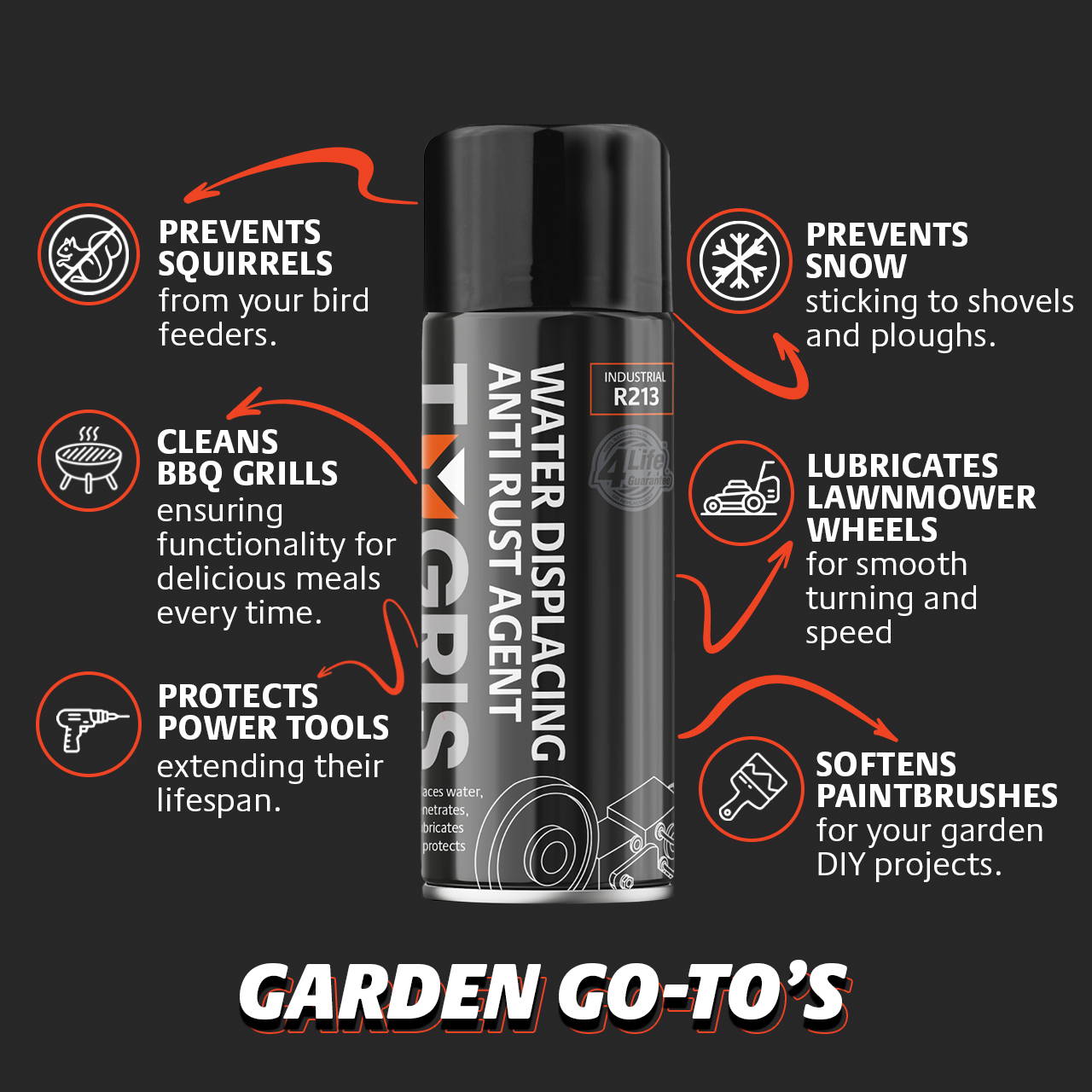 Garden Go-To's
Keeps lawnmower wheels turning smoothly for a well-groomed lawn.

Prevents snow from sticking to shovels and ploughs, making snow removal a breeze.

Stops wooden tools from giving you splinters during gardening tasks.

Keeps squirrels off your bird feeders.

Protects garden furniture, both metal and plastic, from rust and wear.

Lubricates your garden gate for easy opening and closing.

Cleans your BBQ grill, ensuring functionality for delicious meals every time.

Loosens rusty nuts and screws, making repairs hassle-free.

Coats outside pipes during winter to prevent freezing damage or bursts.

De-grimes and softens paintbrushes for your DIY projects.

Lubricates and protects power tools, extending their lifespan.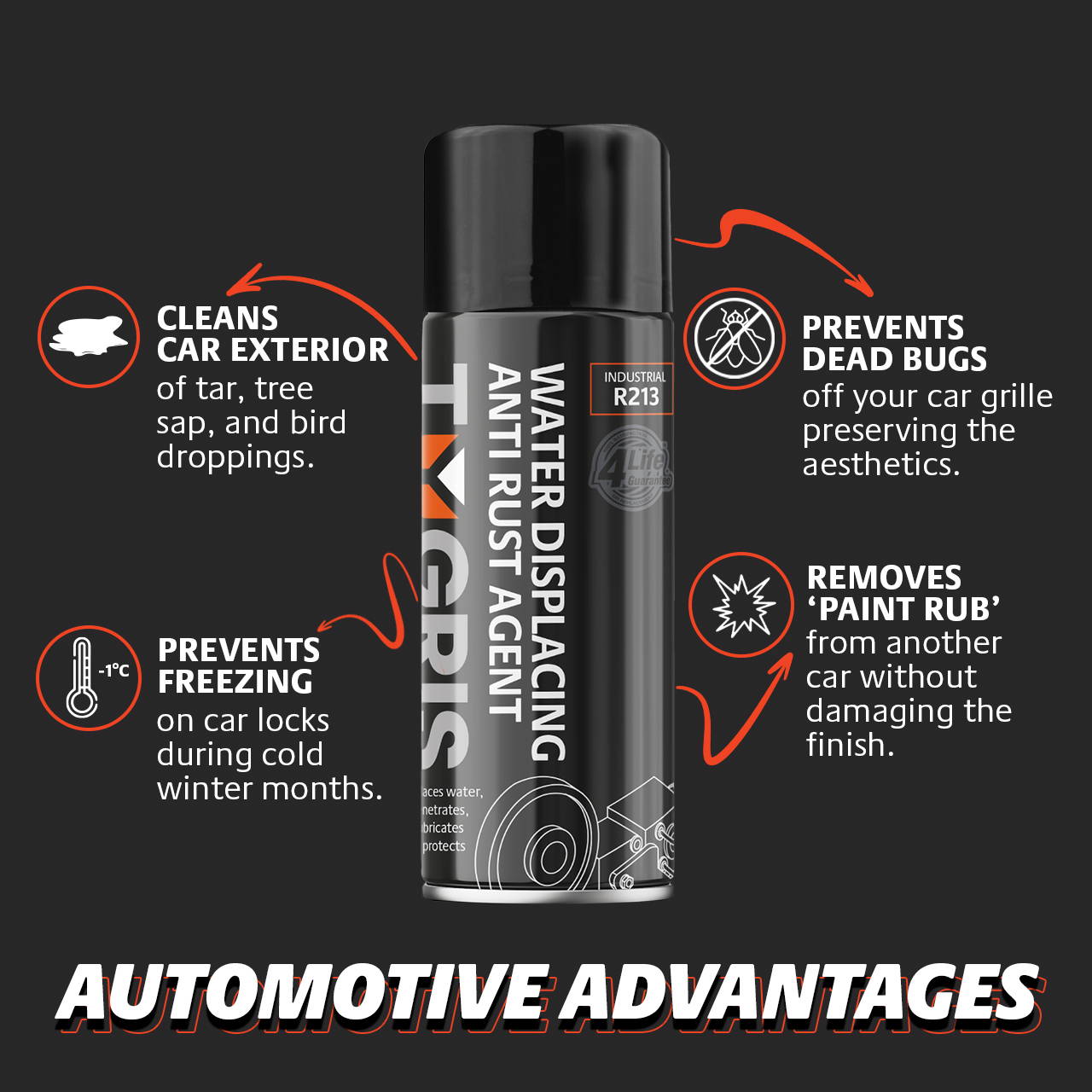 Automotive Advantages
Keeps dead bugs off your car grille, preserving your vehicle's aesthetics.

Removes 'paint rub' from another car without damaging the finish.

Gets rid of tar, tree sap, and bird droppings from your car's exterior.

Prevents hose ends from corroding, ensuring a secure fit.

Keeps car locks from freezing during cold winter months.
There you have it, 41 fantastic reasons why TYGRIS R213 Anti-Rust Spray should be your go-to maintenance companion. It's versatile, efficient, and a worthy competitor for all your needs, ensuring your equipment, household items, and vehicles stay in top shape.
Explore Our Full Range Of Anti-Rust Fluids
SUBSCRIBE TO OUR NEWSLETTER
Get industry information, deals and promotions straight to your inbox!